Britain and Central Europe:


The lunar eclipse occured along the horizon of Britain, too.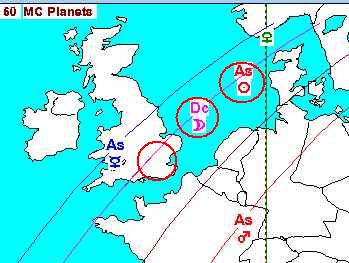 The eclipsed Moon in 30 Gemini sets in London (London is ruled by Gemini). When an eclipse or lunation occurs in the 30th degree of a sign, a certain rally or movement often comes to the end of its thread. It is a long time since there has been seen such a stir and unrest on the streets of London, with young people (Gemini) protesting against the new tax/toll policies imposed on higher education (Sagittarius). Newspapers also report that the (Gemini) coalition between the Conservative Party lead by Prime Minister David Cameron and Liberal Democrats, Nick Clegg, also has come close to a point of exhaustion. Prince Charles and Camilla's car (Gemini) was attacked on their way to a Royal variety show.