Natal of George W. Bush, Jr.
Solar Chart, cast for Sunrise
George W. Bush, Jr. has Sun in Cancer. First thing that comes to mind is Cancer's connection to the family ( to Mommy and Daddy). Of course, this is formerly 'Pops' war and George Jr. reacts instinctively upon an opportunity to restore the family honour.
In the solar eclipse of 4. Dec. 2003 (see below - chart 3), Bush is represented by Jupiter who disposes Cancer by exaltation. Bush has natal Sun conjunct the exaltation degree of Jupiter. A planet acting out its exaltation will show a warrior of superior strength; But he will go forward in a reckless manner, act arrogantly and attempt to claim more than he is due.
His Solar Age Point has been passing through the sign of Leo the last 4 years, but this upbeat astrological dignity will be over in November 2003 as the Solar Age Point moves to Cancer. Here Bush is confronted with Saturn who is both detrimented and close the degree of Mars' fall. When Queen Elisabeth II's Solar Age Point was directed to Saturn in Scorpio she called it "Anus Horriblis". Bush is due for similar trouble, will struggle with his popularity and be an easy target for the opposition. George W. Bush Jr. will cross the Saturn/Pluto midpoint in April 2003, which gives a period of great diffuculty and danger. Check with the chart of John F. Kennedy for comparison. Note how the Age Point is coloured and receives impact from its movement towards the body of the next planet, Saturn. From November 2003 through to November 2008 the Solar Age Point will move through Cancer and be impedited by the presence of the detrimented Saturn. Times will be tough and it will be hard to hold on to power.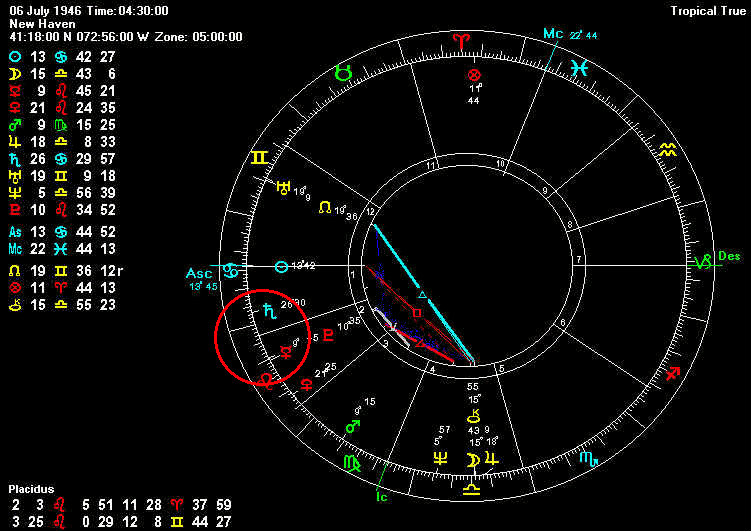 .
Natal of Saddam Hussein
Solar Chart, cast for Sunrise
Saddam has Sun in Taurus. Hitler was also Taurus, to dismay for everybody else who shares this Sun sign. The brute regime of Saddam Hussein is generally agreed upon. However, his ability to mass destruction is a question of current disussion.
Saddams Solar Age Point in February 2003 reaches the 3rd degree of Aries. The Age Point moves from detrimented Venus to Saturn in his fall at 0 degrees Aries, the Vernal Equinox. This is not good for Saddam, but if worst comes to worst, it is not particulary good for the World either. Aries is ruled by Mars, the planet of war, is on the cusp of the 8th house of death and destrution. Mars receives the Moon, who is lady of the fourth, ruling disputes of land and political opposition. The Moon and Mars are enimies according to natural powers. Pluto in the 4rth house - revolt and upheaval. Pluto in a tight opposition to Jupiter in the 10th house of dictatorship. This is a powerstrife all about oil, money and morals. Jupiter, signifying Saddams leadership, is weak by its fall in Capircorn, conjunct the violent exaltation degree of Mars, and disposed Saturn in fatalistic vernal equinox.
If Saddam does represent a threat of mass destruction I would look for this towards Summer of 2003 as the Solar Age Point joins with the body of Saturn. At the moment it is difficult to decide which camp is responsible for the smoke. With this chart I see no way out for Saddam Hussein and the most likely he would be bombed out (Pluto in the 4rth) and killed under a missile attack (Moon conjunct Mars in the Archer on the cusp of the 8th house).
Note 31.12.2006: We now know that Saddam was captured by American troops in December 2003. The official version says he was captured from a hole underground (Pluto). Satrun, the ruler of the 10th house, is in the sign of its fall, intercepted in the 12th house - so Saddams story is that he falls from power and ends his days in imprisonment. On the cusp of the 8th house of death is Sagittarius, who is ruled by Jupiter, in the sign of his fall in the Capricorn 10th. In December of 2006 Saddam is sentenced to Death by a Judge (Jupiter in Capricorn in the 10th) and convicted by hanging (Capricorn).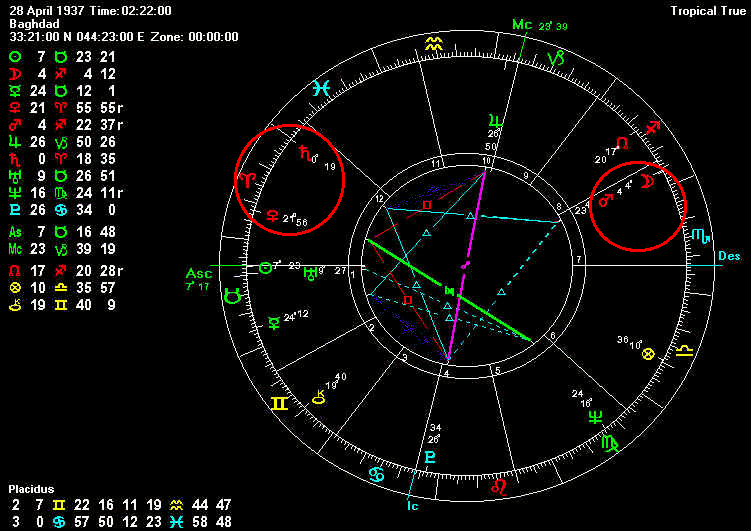 .
Solar Eclipse of December 4. 2002
Cast for Baghdad
Jupiter, who is lord of the eclipse, is stationary in the 7th house, the house of war. Jupter disposes Cancer by exaltation, which is the sign of Bush jr.s natal Sun. Hence, Bush jr. stands out as a mighty opponent. Jupiter is in its first station and turning retrograde, thus is at the begnning of its sickess or ill direction. But Jupiter turns direct on April 4. which could mark an important turning point. Mars transits the eclipse degree on February 4 and 5. This passage is malicious self-ingiting, and mischief from weapon or fire may be expected. (Space-shuttle Colombia exploded a few days earlier). From this point war may be started at any time. (Note: On Feb.5 the US delivered their" testimony" on Iraq weapons of mass destruction). What Bush does not want is the initial attack launched at Iraq as late as August or September. At this point in time Mars will be retrograde and cause heavy loss to the attacker.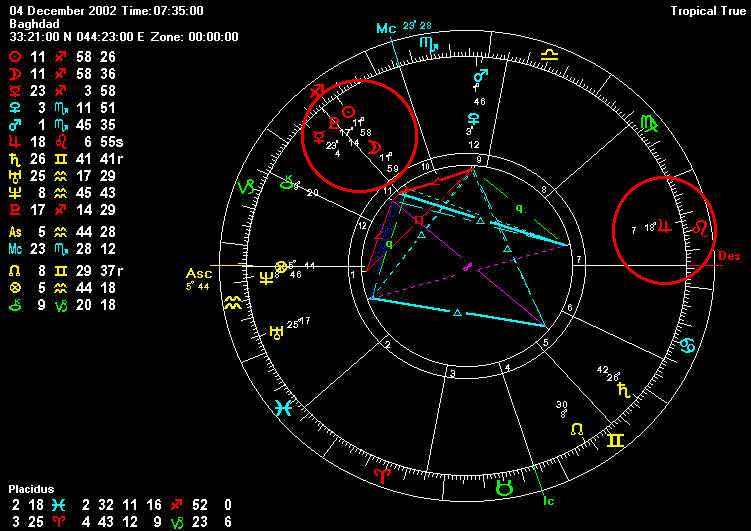 .
Solar Eclipse of April 17. 1624
Cast for Baghdad
The solar eclipse of Dec. 4. 2002 belongs to a Saros Cycle that commenced on April 17. 1624. This first eclipse of the series occured in Aries, ruled by Mars, and square the very degree of Mars exaltation. Mars, the planet of war, is in the 7th house of Baghdad - in itself a token of war - but also indicating that an aggressor will arrive from the West. Mars is in Gemini - the sign that rules the USA.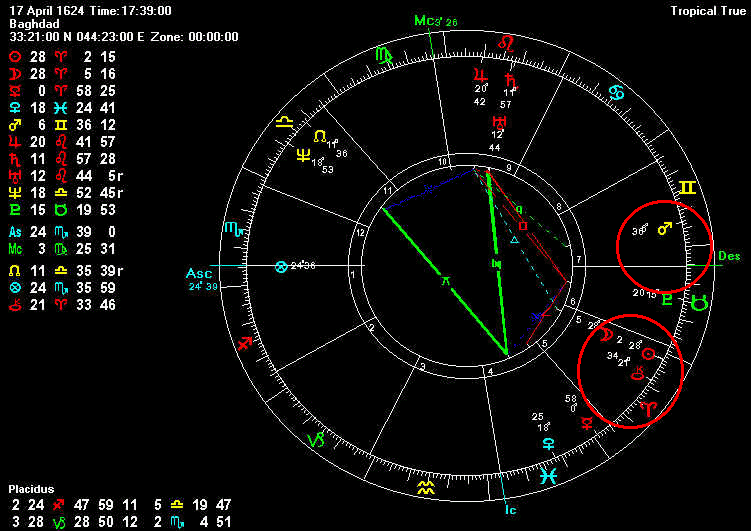 .
Solar Eclipse of April 17. 1624
Astro-Cartography
This Astro-Cartography map for the 1624 solar eclipse shows how Mars lies on the Descendant of the Persia-gulf, and also notice how Jupiter lies on the Ascendant for the birth place of George W. Bush, Jr.