North Korean attacked the South Korean Island Yeonpyeong at 14.34 local time on November 23. 2010, according to VG. A chart cast for the moment of the attack shows how Aries, ruled by the warrior planet Mars, is on the Ascendant. Pluto, the planet of offense and intrusion is culminating in the South. The chart shows how the Moon in Gemini is opposite Mercury and Mars in Sagittarius.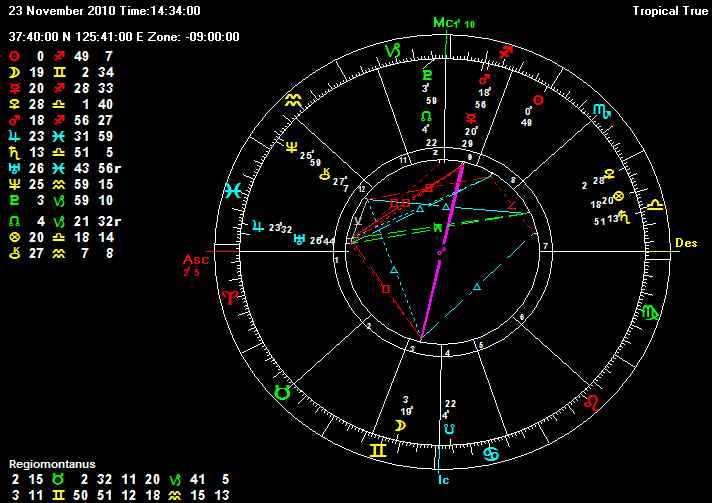 The preceding New Moon
A chart cast for the preceding New Moon of November 6. 2010 show that Mars was in the direct South and on the Midheaven of Yeonpyeong. This causes tensions to peak and matters of conflict and strife to boil over - as was the case in both the Kosovo-conflict and the Persia Gulf War. The New Moon of November 6. occurs in the sign of Scorpio, which rules Korea according to R.E.Bills. Mars is the ruler of Scorpio and is located in the South, as has been pointed out. Mercury, Lord of the 4th house, which rules territorial rights, opposes Algol and is in a tight square to Neptune in the 1st house.