The Lightening Ghost of Norwegian Football
- or Shaddow of Charles & Diana
Andrew J. Bevan, QHP, DMS Astrol. Published: Sep 15. 2008 (c), Update: Jan 6. 2010
Monday Sept. 15 hosted this years battle of Oslo between the local football teams Valerenga and Lyn. Valerenga is considered to be the Big Brother in this context but they haven't been able to seize victory over Lyn since July 29. 1981. This is the same day as Prince Charles married Lady Diana! The name 'Lyn' can be directly translated into English and means 'Lightening'. The phenomena has been called the 'Lightening Ghost.'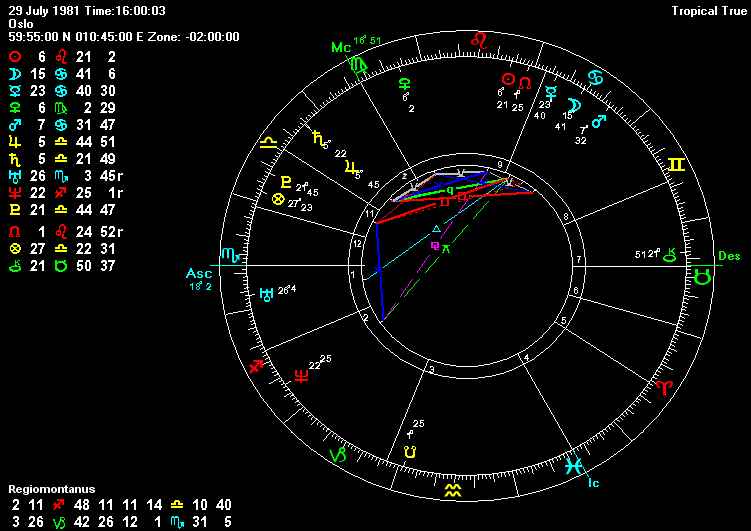 Now when a curse appears with a record that lasts for almost 30 years, you immediately thing about the Saturn-cycle. 29 years! This means that if Valerenga want to beat the Witch before 2010 they are going to have top pull their socks up! I checked the chart for July 29. 1981 - although I haven't recovered the time for when the game started. It must have been in the afternoon. The chart contains the final passage of the triple conjunction between Jupiter and Saturn at 5 Libra!

Aha! So it is a curse! To do anything with this one we do as astrologers know it is wise to observe the cycles of 12 and 29 years, in addition to the Jupiter/Saturn cycle, which lasts 20 years. Did I say curse? July 29. 1981 is the very same day as Prince Charles and Lady Diana got married. It is hard to imagine what this Royal couple went through.
----------------------------------------------------------------
Update Jan 6. 2010: On January 3. 2010, Leeds beat ManU 0-1 at The Old Trafford. The last time such an event occurred may also be traced back to 1981.