On August 17. 2011 Andrew Bevan published an article at Skyscript.co.uk regarding a rare event occurring in the Skies. The inner planets Mercury and Venus were on exact line with the Sun and Earth at the same time, performing a condition ancient persian astrologers termed as Cazimi; Planets in the Heart of the Sun! According to ancient astrology this is a time when a planet is in its highest dignity! Two planets at once in this condition of Royalty was a sure token of something exceptional in the works.
- The two Princesses of Sweden and Denmark stem from the same magnificent configuration and are like two apples falling out of the same tree, the astrologer says.
Two Planets in the Heart of the Sun.
.From the thread at Skyscript:
.
Author
Message

Andrew Bevan


Location: Oslo, Norway


Posted: Wed Aug 17, 2011 12:01 pm

Post subject: Double Cazimi - Royal Births

---

Last night at 00.03 GMT, 17. Aug 2011, the Moon entered Aries - but at this very same time both Mercury and Venus were cazimi and in the Heart of the Sun. This seems like an unusual happening.

Venus was making her superior conjunction and was on the opposite side of the Sun, while Mercury was retrograde and performing his much more swifter inferior conjunction, which brings him at his closest to Earth.

The Sun is in his own sign Leo and casting a Royal dignity of the whole thing. Anything in the news that reflects this celestial event? How about an immenent announcement regarding a Royal pregnancy ?

News from Sweden
Only hours further into the day of August 17. at about 15.00 CEST news came from the Swedish Palace announcing that Crown Princess Victoria and Prince Daniel were expecting their first child. A New Generation with heritage to the Swedish thrown was in the making.
News from Denmark
Then only one week later on Aug 24. at about 14.00 CEST, news comes from Denmark that Crown Prince Joachim and Princess Marie also are expecting a child. Now we had two Royal pregancies on our hand from the 'Double Cazimi'.
A cautioning to Victoria
A cautioning in those constellations present at the moment of the Swedish announcement suggested that it could be wise of Victoria to take certain precautions xx months into her pregnancy. We do not know of any other complications apart from that pregancy itself can be a very delicate and energy-consuming process, but in September Victoria decided to cancel her participation during a scheduled US visit and Prince Daniel made the journey alone. This would seem to have been a correct priority.
-
The New Born Princess of Denmark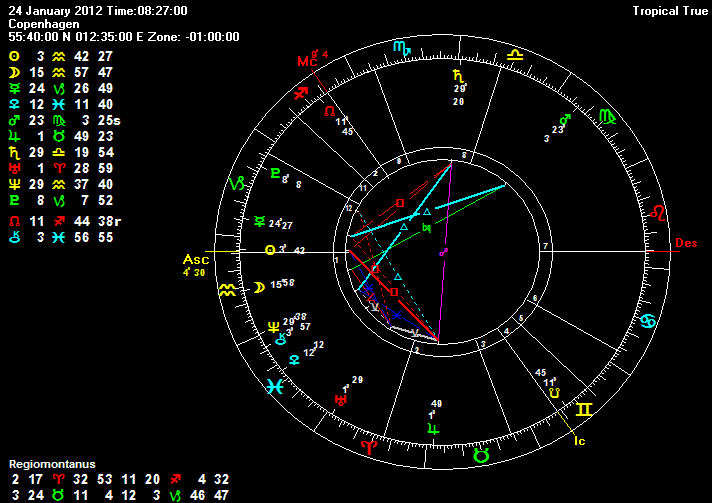 The Danish Princess has a truly powerful chart. The Sun rising in the Aquarius ascendant in the East is the signature of a prominent personality and a leader, but the sign of Aquarius also imports individualistic characteristics, new thoughts based upon democratic principles. Besides, the princess might take a liking to excitement. Both luminaries in a fixed signs is due to show both stubborness, strength and drama.

The strong Aquarius trait has the experience of being different, and her beauty should be quite striking. She will have a strong sense of perspective on matters and a strong sense of personal involvement. She might get caught for being rebellion or opinionated, and while there may be many good and charitable causes, she needs to separate herself from her involvement.

The Sun being Lord of the 7th house of relationships is due to give the princess important representation role, maybe draw her to a foreign Embassy, but certainly her partner in life may be a Prince or a person in an elevated position. She may take liking to the sign of Leo. A close relationship to her neighbour country, Sweden, would be indicated in her chart by planets in Aquarius, the sign that represents Sweden.

The Moon's North Node, known as the Dragon's Head, in the South of her chart is an indication of wisdom and education. There is a leaning towards art, balance, finances and law.

There is an interesting development in the nativity indicated in her 2nd year as her Age Point crosses Mercury, who is the ruler of the 4th house. This could related to changes in the home or a reshuffling of the duties of her father. When she reaches the age of 24 years her Age Point will enter the 5 year period of Leo and we will see her rise to positions of great esteem. Relationships and opportunities of personal recreation take higher priority in agreement with the promience of her natal Sun.
Princess Estelle of Sweden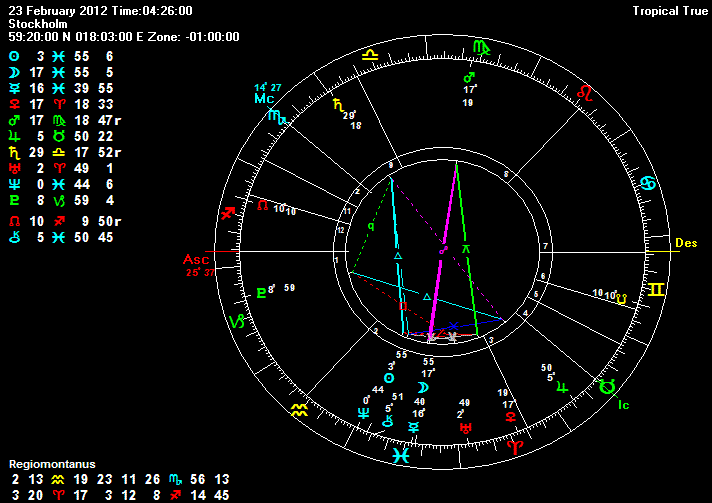 The birth chart of Princess Estelle shows her to be a person of great delicacy and sensitivity. Both the Sun and Moon in Pisces describes her as impressionable, vulnerable and compassionate. As a young princess she show her feelings and be light to take to tears. The Moon is just coming off her configuration with Mercury and Mars, yet this could described some of the turbolence surrounding the Swedish Royal House prior to her birth. Some sort of precaution could be made so that the young princess Estelle was not exposed to too much controversy in her own upbringing. She needs to develop skills of interpretation and navigation. She may be interested in politics and debate, yet need the guidance of sound advisors. Sagittarius is rising in her chart and she might be open-minded, but letting things drop out of the bag as she feels.

She may show interest in may subjects; Science, Art, Astronomy, Astrology, Medicine, Poetry, Journalism and Languages. While her 'celestial sister' in Denmark is largely fixed, Estelle has most her prominent points in mutable charts. This makes her more flexible, adaptable, yet restless. She will go to effort to meet other peoples needs, yet there could be too many activities, loose ends and distractions and she needs too develope a strong sense of her inner self. The paparazzi should not be allowed to hassel with her.

When she reaches the age of 14 years her Age Point will move through the sign of Virgo, ruled by Mercury that is in the sign of Pisces and joined to the Moon, the co-ruler of her 7th house. There could be many matters written in a foreign tongue, yet this might agree with an education abroad or the influence of many foreigners. Yet, if she is an experimenting young lady she would not want to run into things too rashly, but take the time to navigate along a defensive line - less the winds should stirr or there are matters of dispute that require her constructive administration. She is likely to feel a deep compassion for nature and all living things.

The Sun joined to Neptune, Mercury joined to the Moon in Pisces and Scorpio in the South, I vouch that this woman will be joined to a Spouse of a water sign, with Cancer being of the highest order. When she reaches the age of 24 years, her Age Point will enter the sign of Cancer, relating too her natal Moon that is joined to Mercury, Lord of the 7th. From this matters may develop quite swiftly, yet it might be important to consider the mulitple and fertile meanings of her significators placed in the sign of Pisces.

Princess Estelle has to fight off some turmoil in life, but if she is allowed to develop a sense of inner strength and calm, she has the ability to good through a great many deeds.