Many people had advance pointed out that Friday, February 4. would be the Destiny-Day in Cairo, as the planet Mars moved through the 'Heart of the Sun'. This is a situation where a planet is overwhelmed by the powers of the Sun both before and afterwards, but for a short period is raised to a position of high principles. However, significant configurations do not also express themselves momentarily. like something that is over and done with in a flash, but they may be due to cast their shadow or effects either forwards or backwards in time.
Astro*Cartography chart of the waxing Half-Moon, February 11. 2011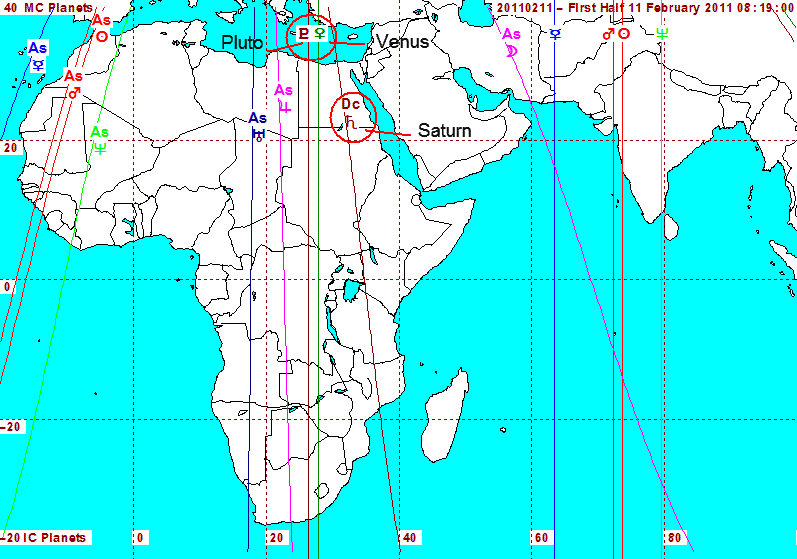 Seeing that issues were not dealt with and resolved on the New Moon of February 3., this passed the pressures on to the Moon's first quarter, which occurred at 07.19 GMT, February 11. 2011. As a matter of interest, it can be seen how the lines of Pluto and Saturn continue to pressure the area, but they have changed place. In the map of Feb 3. Saturn was on the meridian, while Pluto was in the horizon. In the chart of Feb 11. Pluto is on the meridian, with Saturn in the horizon. This becomes even more clear by taking a look at a conventional chart.
Conventional chart of the waxing Half-Moon, February 11. 2011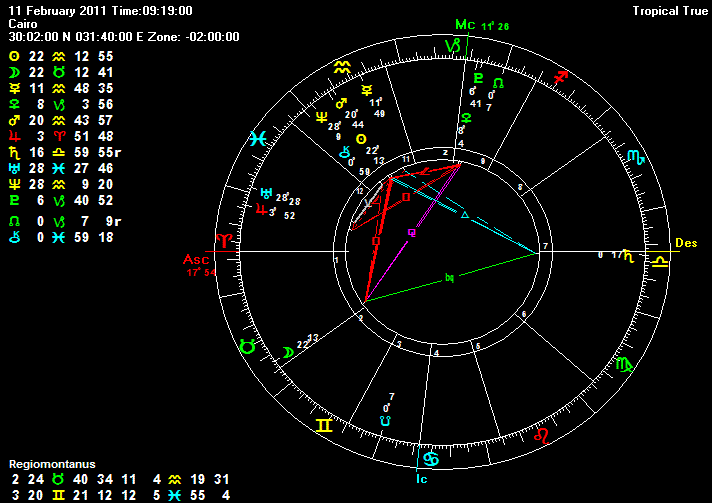 In the conventional chart it is easy to see Saturn, Lord of the 10th house, setting in the West - so Mubarak resigns from power. The planet Pluto, who provokes a forced situation, is culminating in the South with Venus, who is Lady of both Saturn in Libra and the waxing Moon in Taurus. Venus in the sign of Capricorn and Saturn in Libra are in mutual reception, which also indicates a way of getting out of a situation, moving from one place to another or a resolving shift of action.
Source: Aftenposten, Allvoices