- Super Channel Norway -
by Andrew J. Bevan, QHP, DMS Astrol. (c) 2009
The Norwegian Broadcasting Company

NRK

started a new television channel on 1. December 2007 called

'Super'

. This is their new children's channel with programs entirely for children. The channel went on air 10.00 LMT (09.00GMT), Oslo. Asc 19SG22, MC 7SC57. Moon is 6

°

59 Virgo conjunct Saturn 8

°

16 Virgo(!!)

intercepted in the 8th, with dispositor

Mercury

29

°

48 Scorpio, Void of Course and entering detriment!!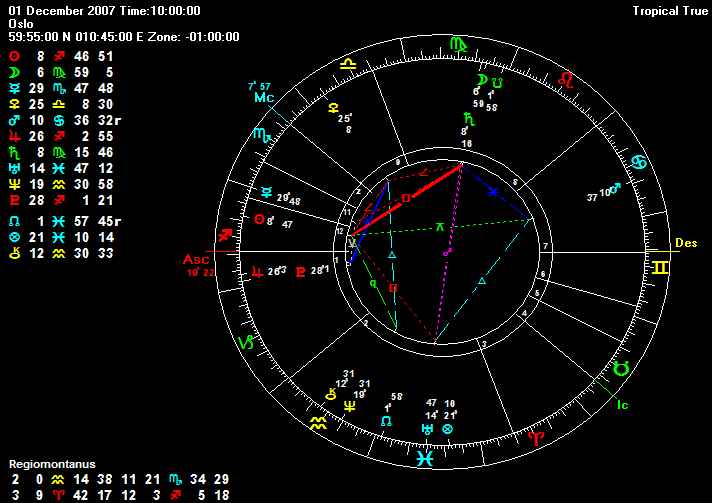 Giving priority to a Children's Channel is going to be a popular supplement to the present selection of channels, I am sure. There is Venus at 25

°

08 Libra with Spica and in the 9th house applying by sextile aspect to Jupiter in the 1st house at 26

°

03 Sagittarius. But is the alignment between Moon/Saturn totally child friendly and doesn't that look like financial troubles?

The frequency is split into two with NRK Super broadcasting during day and NRK 3 by night. The channels switch over at regular times and do NOT follow the rising and setting of the Sun!