While Comet Lulin in winter skies held Alexander Rybak as a winning favorite ahead of last year's Eurovision Song Contest held in Moscow on 12. May 2009, this year the winner is not equally obvious. But Armenia and Sweden hold strong chances according to the Norwegian/British astrologer Andrew Bevan.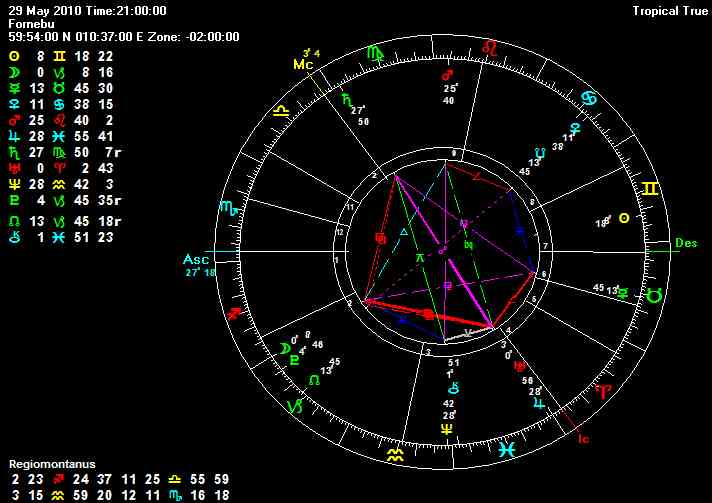 Champions League topples Eurovision Plan-its
One of the interesting events leading up to this year's Eurovision Final, to be held in Oslo on 29. May 2010, is the changing of dates. While the arrangement was scheduled for 22. May, such plans were ruffled by Champions League finals. Two Super-media events could not compete for World-wide TV viewers on one and same evening. Eurovision gave way for Champions League. A pity, say some, because 22. May is so conveniently close to Norway's National Day on 17. May, which would have put the whole nation on parade for visiting tourists. However, the moving of dates might provide a key-clue to who is destined to capture the Eurovision trophy on the night of the event.
Saturn calls it All
According to the astrologer, planet Saturn draws the longest straw in this years Eurovision; "It could either be a matter of fallen fruit or falling to Mother Earth," the astrologer explains. The Armenian entry 'Apricot Stone' sung by Eva Rives and the Swedish 'This is my Life' performed by Anna Bergendahl are those songs that describe the qualities of the moment best and therefore stand the strongest chance of arousing the pleasure of the Gods in Oslo on 22. May." - In addition, Armenia is ruled by Libra and Sweden is ruled by Aquarius. Saturn has a liking for either sign, Bevan says. "It would be nice if Armenia got it, but also the young Swedish Anna Bergendahl seems like an uncut gem that could lift herself to the height of the occasion.
- Either way, it will be the number of 'rings' that decide who wins in Oslo in May.
Bookmakers presently hold Israel as favorite at 4:1. Second is Azerbaijan at 5:1. In third position, Norway at 7,5:1. Fourth is Armenia at 8:1, and in fifth position is Sweden at 10:1 odds. (Source: Unibet)
View the astrologer's chart for Eurovision 2009 here.
Other links:
Astronor.com - 4.May 2010 ; "Planets Sing for Germany & Armenia"
NRK - 22. February 2009 ; "Stars Predicts Success"
Hegnar Online - 15. mai 2009 ; "Astrologer believes Norwegian victory in Moscow"
Hegnar Online - 17. mai 2009 ; "Rybak and Norway wins Eurovision"