"

Missing Boy found

"
by Andrew J. Bevan, QHP, DMS Astrol. (c) 2010
An 11yr old boy went missing during a ski trip with his parents on Saturday afternoon. This occured only a few km South of where I live, so this is obviously where everything is happening at the moment. The boy and his parents had decided to split up and take separate paths back to the carpark at 15.45 CST, Saturday 13. February 2010. The chart is cast for that moment. Astrology did not participate to the finding of the boy, but it is an interesting case study.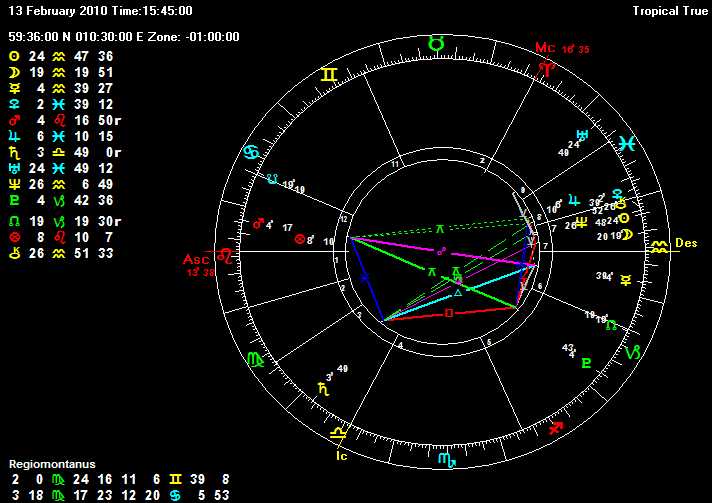 When the boy failed to show up at the carpark the parents backtracked the 4 km long path that he was supposed to have followed before contacting the police. Looking at the chart, with the Moon in Aquarius in the 7th house, you would have expected the boy to travel East. The carpark is directly East from where the boy split up from his parents. However, the Moon is combust and the boy got lost. The Moon is within the degree and actually minutes of her northern nodes in Capricorn. From a state of haze and combustion, the nodes are a point of reference. The nodes are cadent, which indicate detours and may indicate matters of fate. This is what happened. The boy made a mistake and was taken South. Earth signs indicate South.
Late into the evening a Sea-King helicopter with heat-seeking devices was put into the search and at 01.58 a.m. and almost 10 hours after he disappeared the boy was relocated about 4km (2,5 miles) South of where he was supposed to have been. With temperatures down to -10C he was slightly cold and had a body temperature of about 35C, but elsewise he well clothed, in a good physical condition and with cheerful spirits.
Source:

Drammens Tidene

,

Aftenposten